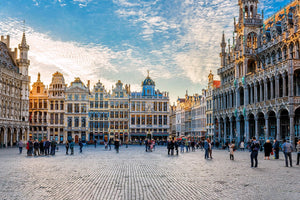 A brotherhood story
We are 3 Belgian brothers who were desperately looking for a healthy alternative to energy drinks. That's why we decided to take the bull by the horns and create our own drink.
Objectif : Qualité et sain
Notre objectif était de créer la boisson la plus saine du marché en utilisant uniquement des ingrédients naturels et certifiés bio.

En effet, baignés dans le monde du bio depuis notre enfance et connaissant les bienfaits de nombreuses plantes, nous étions persuadés qu'une alternative saine et naturelle pouvait voir le jour !
The expert
To do this, we called on the services of health experts. After several months of research, in close collaboration with Legisana, a company specialising in food supplements, buddy focus was born.
Our commitments
Transparency
We have nothing to hide!
It is essential for us that the consumer knows what he or she is consuming. That is why we will always be transparent about the composition of our drinks.
Our recipe
Organic and Natural
All our ingredients are and will always be 100% natural and certified organic.
Offbeat spirit without neglecting quality
We want to offer quality products that we are happy to consume ourselves, without taking ourselves too seriously.
Eco-responsible
Of course we are not perfect, but we always strive to make the most eco-responsible choice possible.
We closely follow the development of ecological innovations in order to constantly improve.